Umar Rana – Pakistani/Singaporean
Umar Rana is the founder of Comedy Masala Singapore. He has performed live in Singapore, Hong Kong, Sri Lanka,Indonesia, Malaysia and Pakistan.
Umar has established himself as the leading influence in developing the standup comedy culture in Singapore.
In Feb 2010, Umar hosted "AN EVENING WITH ROB SCHNEIDER" where over 1,400 people attended to watch the Hollywood Emmy-nominated actor and Saturday Night Live veteran during his world tour stopover in Singapore. Umar has hosted & produced international comedy shows featuring acclaimed professional comedians such as PAUL OGATA (USA),BARRY HILTON (SA), BUTCH BRADLEY (USA), RUBEN PAUL (USA), AL DUCHARME (USA),WALI COLLINS (USA), BRAD UPTON (USA) and festive shows "LAUGH OFF ASIA" and"KARMA KOMEDIANS"
Umar began his comedy career in 2001and was a founding member of BLACK FISH, Pakistan's first and highly acclaimed English Speaking Improvisational Comedy Troupe. Black Fish attained cult statusperforming weekly to packed audiences and began touring major cities across Pakistan. Black Fish was selected by The British Council to represent Pakistan in "Contacting the World" Theater Festival in Manchester, England in 2004.
Umar continues to host and promote comedy shows in Singapore, with a vision to introduce mainstream standup to the local Singapore audience, and to make international standup comedy accessible to everyone from students to executives. He has been the MC for the first 3 editions of the Colombo Comedy Show.
Fakkah Fuzz – Singapore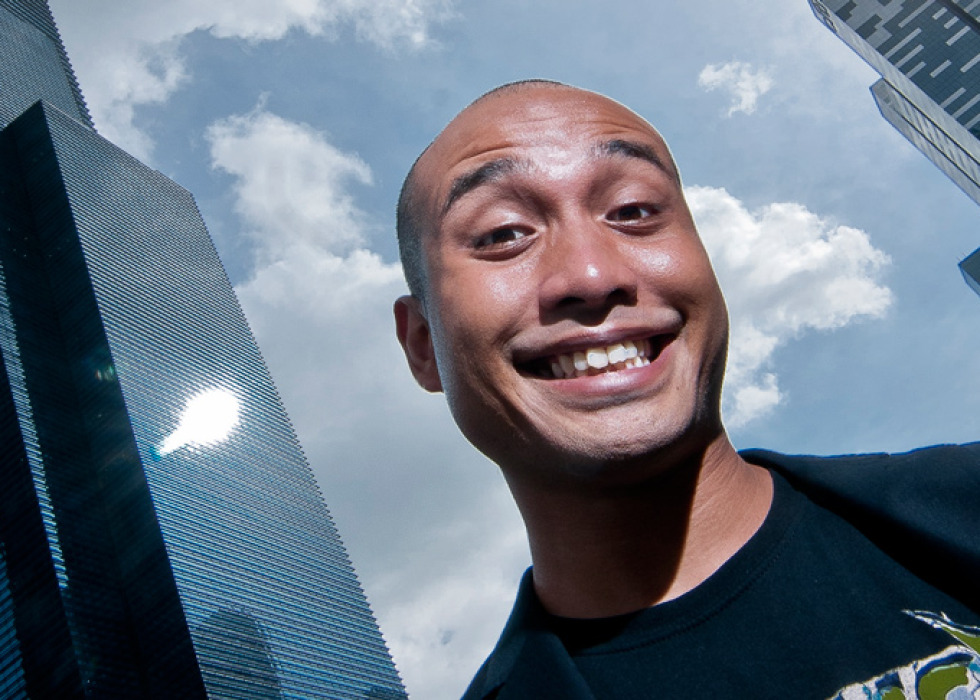 Fakkah Fuzz is one of the fastest rising talents in the local comedy scene, Fuzz has performed in local open mics and shows for 4 years and has received positive reviews from local media such as The Straits Times Life, Berita Harian, The New Paper and Channel News Asia.

In 2012, Fuzz made his debut in Hong Kong with Take Out Comedy, and featured as one of the headline acts for a monthly show in Kuala Lumpur. He has also spearheaded and headlined a local stand up comedy show called Sons Of Singapore which he headlined and produced. In Dec 2012, He has also co-headlined the Comedy Week at Singapore's biggest Stand Up comedy circuit with The Comedy ClubAsia. Fuzz has also performed in other parts of asia such as Cambodia with The Comedy Club and Indonesia with SG comedy veteran Hossan Leong. On top of that,he has also co-written and acted in a local TV sketch comedy show with Mediacorp called Random Island, which airs on Channel 5. In 2013, Fuzz was named one of the Top 10 Comedians of Asia by Top 10 Asia magazine and has also won first place in a local Stand Up Comedy competition Stand Up For Singapore.
JIM BREWSKY (USA)
Jim Brewsky started his comedy career at TakeOut Comedy Club in June 2012 and has worked hard at honing his comedic skills. His delivery style combines a good-natured stage presence with a healthy dose of self-deprecation. He was as a finalist in the 6th Annual HongKong International Comedy Competition and has opened for comics Paul Ogata(Comedy Central), Andre King (NZ), Al Ducharme, Wali Collins (Comedy Central),Barry Hilton, Brad Upton (Comedy Central) and Butch Bradley (HBO).
BEN QUINLAN - AUSTRALIA
Ben is a regular performer at the TakeOut Comedy Club in Soho and has performed with a host of international comedians on their Hong Kong and Macau tours. He hosted the 2015 Magner's International Comedy Festival and was invited as one of six international headline acts at the 9th Annual Hong Kong International Comedy Festival. He also finished in 3rd place in the 9th International Hong Kong Comedy Competition where he competed with over 50 comedians from around the world.